David Lux, MD...practicing medicine with a heart for God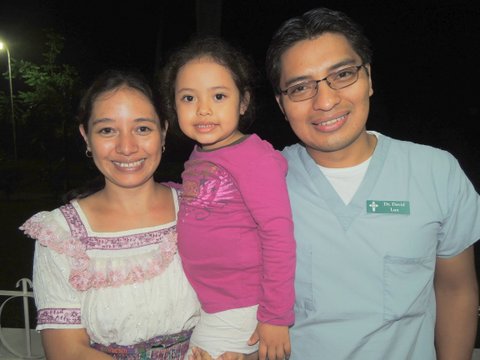 Dr. David & Sonia Lux with Sophie
Dr. David Lux took an unlikely route to prepare himself to be a doctor. At age 18 he and his sister, Josefina, each received a medical school scholarship from Fidel Castro's government in Havanna, Cuba. He was there for six years. In addition to a free medical school education, they received a whopping $5/month spending money!
He graduated in 2005 and returned home to do his required year
of government service in Guatemala. As he learned more about the HTI ministry, he was drawn to it immediately because of its focus on the "whole" person. He had been raised in a strong Christian home in Santa Cruz del Quiche, so the idea of ministering to the whole body was exciting to him. Ultimately, he and his sister, Josefina, both went to work with HTI; Josefina in the Highlands, and David in the coastal area around Clinica Ezell.
At first he found the new way of ministering to people difficult. In Cuba he had not been trained to pray with patients. He had not been expected to probe for a relationship between the physical and spiritual. When his patients first came to him, they thought he was a regular doctor. They would later seem confused when he shared the Lord with them. But as they looked around the clinic that was held in a church, they saw both clinic and church workers present and began to feel the unity of the mission. He, too, began to relax as he realized that it wasn't necessary to preach to them. He understood that it was his attitude and how he approached them that mattered more. It was how he touched them...and how he prayed for them that made them respond to spiritual guidance. He said his patients have more confidence in him now and are much more willing to open up to him.
One older woman came complaining of severe headaches. During his examination when he could find no visible cause for her pain, she mentioned that her daughter had recently left home. Dr. David was able to help her understand that her headache was likely caused by her heartache for her daughter. Similarly, another patient came in because she was having trouble breathing. He could find no obvious cause. She confided that her trouble had begun when her husband passed away recently. David help her understand that her despair and distress about losing her husband had caused her problem. He talked with her about the comfort the Lord provides...then held her as she cried.
His most gripping patient, however, was a young girl of 16 or 17 who came in with chronic belly pain. He sent her to the capital where she learned that her kidneys were not functioning, and she needed dialysis. Every two weeks he would give her the medicines she needed without charge as well as bus money to get to the hospital for dialysis. Despite all of this, she became worse. The last time she came to see him, he was shocked to see how debilitated she had become. He insisted that her mother take her back to the hospital. The mother protested that she had no money. David, once again, gave her bus fare. Two weeks went by, then the mother came to see him alone. Her daughter had passed away in the hospital. The mother was filled with such deep gratitude for the kindness and compassion that David had shown them that she had come to thank him personally.
It is people like that, Dr. David says, that keep him going. He knows he could make more money if he practiced in the "outside" world. He used to think about doing that. "But, I know I won't ever do that now. In the past few years, I have come to know in my heart that God has called me to this," Dr. David says tenderly.
Dr. David went on to say, "I thank God for bringing me here to this life of medicine. I never thought about being a doctor...it wasn't my dream. My father wanted me to be one...and God made it possible. Because of this job, it's opened my heart, opened my mind, and made it possible for my beautiful wife to come to the Lord."
From a ministry perspective, Dr. David Lux is a treasure. He really "gets" medical evangelism. He understands that the best results arise when his personal ministry reflects the ministry of Jesus. His impact on the community has increased as his patients have come to believe that he is a "man of God" who cares deeply for them. He takes turns with Carlos Baltodano and others in preaching at the Montellano Iglesia de Cristo across from Clinica Ezell. His kind and loving heart shines through in his sermons, too.
It's been the dream of the HTI board that all of the ministry team and churches we work with in Guatemala and elsewhere understand medical evangelism at its best. We know with Dr. David Lux, we hit the mark!