HTI's Mission
Statement
*****
The mission of Health Talents International is to proclaim the Gospel of Jesus Christ through teaching and healing ministries.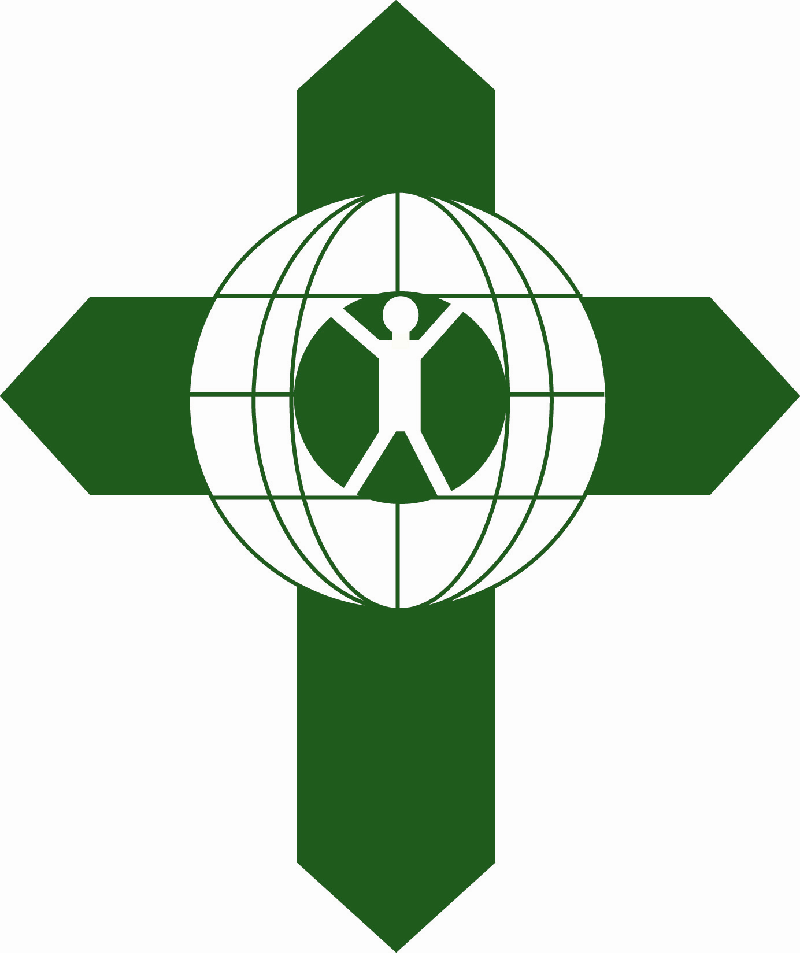 Contact us:
Rick Harper
HTI Executive Director
501-278-9415
Julie Wheetley
Director, Recruiting
615-397-5447
* * * * *
Missionary Blogs
Dr. Lisa & Kemmel
kemmelandlisa.blogspot.com
Sheri Kretzschmar, RN
sheriinguate.blogspot.com
* * * * *
2012 Trip Schedule
June 2-9 - Gen/Gyn Surgery
July 4-9 - Guat Mob/Med
July 25-30 - El Salvador
Mob/Medical
August 4-11 - Gen/ENT/Plastics Surgery
Sept 1-8 - Gen/Gyn Surgery
Sept 29-Oct 6 - Gen/Gyn
Surgery
Nov 7-12 - Guate Mob/Medical
Nov 11-18 - Eye Surgery
Greetings!
The Lord continues to make it possible for HTI to minister in Guatemala. Aided by your generosity of time, money and interest, we are able to have a real impact on the lives of many people in Guatemala. We thank God for you.
There are ever more stories to tell than we have space to share, but MET is always June's highlight, so let's start there. Twelve university students are in Guatemala right now learning about medical evangelism. They are the future of medical evangelism, so we take their training seriously. Following the article about them is a summary of what Roger McCown teaches during MET orientation each year. His material is important for all of us involved in medical evangelism to know, so we decided to share it with you.
I hope you enjoy these briefings. If you want to know more, give us a call...or join a clinic team to go see for yourself!
Jesus and the Twelve (Not the Apostles)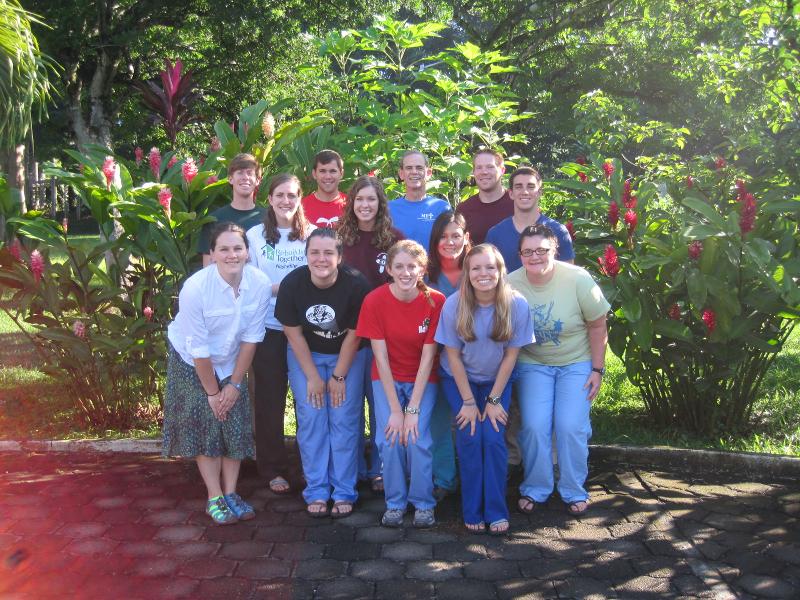 MET class of 2012. (Roger is in the blue shirt in the back row.)

Why would twelve otherwise reasonable and somewhat rational university students pack their belongings into a duffle bag, leave the prospect of a restful summer in their home towns, and spend two thousand dollars to travel to Guatemala to suffer indignities of various sorts? Perhaps it is because they enjoy feeling like a 4-year-old as they put their minimalist language skills on display amid the raised eyebrows and not-so-quiet snickers of those who are trying to understand them. It could be that they have always wanted to experience that urgent search for an outhouse in the middle of a cornfield on a rainy night and the opportunity just didn't present itself at home. Or maybe they had never before felt the rush of being chased up a tree by a pack of angry dogs and just wanted to see what that was like. I wondered.
So on the first night of our Medical Evangelistic Training Seminar [MET] at Clinica Ezell, I asked them. They said, "God has called me to this place. I'm going to receive quality training over the next 4-8 years on my way to becoming a nurse, or dentist or physician or evangelist and I want to learn "best practices" for using my skills to bless others. I've read what some say about this, but I want to get 'mud on my boots,' to make my own mistakes under the guidance of those who can help me correct them, and do my part now with what I already have been given to make a difference in the lives of people who are ignored by the social and political systems under which they live." (So.......it wasn't about dogs and outhouses after all, although those things will be part of their experience.)
Half of this MET class is living with individual Ladino families in the town of Chicacao (careful, that's not Chicago) on the southern coast of Guatemala. The other six are now settled with their Mayan families in the Highlands. In two and a half weeks these teams will trade places and begin again with a new family and new language. (Spanish and Quiche share a similarity comparable to that enjoyed between English and Chinese.) Through a week of intensive language orientation and four days of conversations, field trips, arguments and prayers, we have made our way through discussions about "best practices" in evangelism, health care, and community development, all within the larger context of cross-cultural living. They have received the orientation they've asked for. Now it is up to them to put into practice what they have learned.

Meet the class of MET 2012: Jeremy Archer, Gabby Brown, Anna Cobb, Rachel DePrimo, Kelsey Foy, James Gleaton, Kyle Jordan, Ruth McCoy, Aubrey Palmer, Whitney Pirtle, Meredith Thornton, and Easton Valentine.
(Roger McCown is a long-time HTI board member who, along with his wife, MaryBeth, spent more than ten years in Guatemala serving as a missionary. He was the director of HTI's first clinic in the Peten from 1979-1981. He is also the Senior Minister at the Brentwood Oaks Church of Christ in Austin, TX. This article was borrowed from Roger's blog: rlmccown@wordpress.com)
Excerpts from Roger's MET Lessons:
What IS culture...and Why does it matter?
Culture is important because it "organizes" our world. It reflects "how we do things around here." Culture is powerful. Because it is an unconscious set of forces, it influences both individual and collective behavior. What motivates us in North America won't necessarily motivate Mayans. Through the study of Cultural Anthropology, we can understand the lives of different groups. We gain insights that will help us determine the "most effective, most efficient and least disorganizing line of action" in working with them.
Why is learning the language important?
You cannot enter a culture whose language you cannot speak. Language is the carriage in which culture rides.
What is Medical Evangelism?
Medical Evangelism is the integrated process of spiritual, physical and communal health care (mental, social, spiritual, physical). But how does one combine them successfully? By knowing the culture of the people, their habits and preferences, as well as a good knowledge of scripture. One must also understand both traditional and scientific healing practices. In Guatemala the Maya follow the "hot/cold" theory in which all diseases are either hot or cold...and likewise, all treatments are hot or cold. A "hot" disease must be balanced with a "cold" treatment. If a person has a fever (hot), it is believed that he should not drink a Coke (also hot). If he does, he will get sicker. If he keeps it up, he could die.
Does respect for traditional healing practices constitute support for superstition?
No...because where they are not "against the gospel," they can help. Where they challenge what is true, they hinder. And, in truth, "first generation" Christians will continue to use all their available resourses.
The Difference Between Life & Death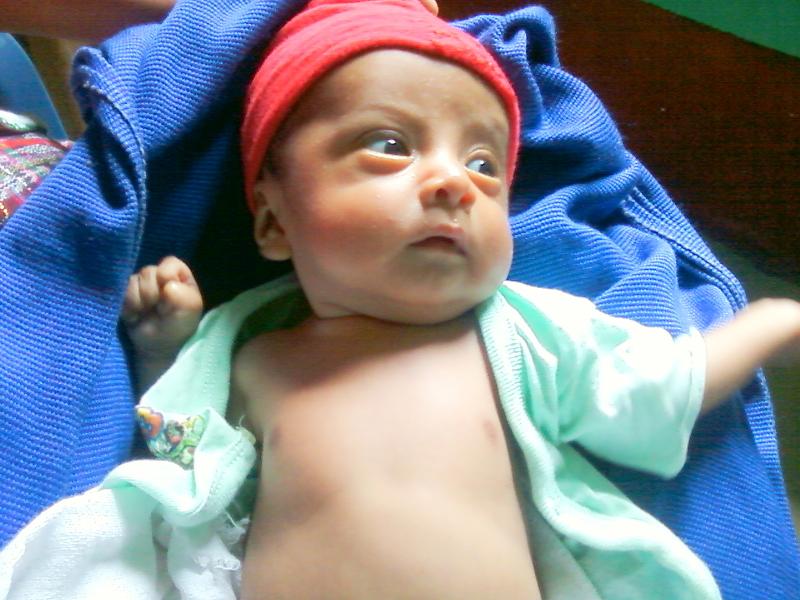 Above are before and after pictures of Jayro Arial Chamay Chajon. His aunt brought Jayro to Dr. Walter Sierra's clinic in San Bartolo Nanzales earlier this year when he was only 20 days old (first picture). Dr. Walter diagnosed Jayro with a severe conjunctivitis infection and provided treatment...but not before he heard the story of Jayro's short little life.
The aunt expained that during the last three months of Jayro's mother's pregancy with him she had experienced many complications, including a lot of pain and bad swelling in her feet. By the time Jayro was born, she was struggling to stay alive, so she was not able to breastfeed him. He was kept alive the first twenty days of his life by water only. In consultation with Dr. Silvia's physician sister in Guatemala City, Dr. Celia Albizures, Dr. Walter immediately began trying to help him. They finally found a formula that has helped him gain weight. Picture #2 was taken when he was two months old and weighed 8.5 lbs.
Jayro's mother passed away two days after the first picture was taken. His father is an alcoholic who wanders aimlessly, the aunt said, so she has committed to raising the boy as one of her own. Dr. Walter will continue following his progress and HTI will continue to provide the nourishment he needs to survive.
This is only one story out of thousands in which Health Talents makes a difference in Guatemala. Please pray for Jayro...that one day he will understand that it was by God's grace that he survived...and with that understanding, he will come to know God.
Rejoicing in Heaven!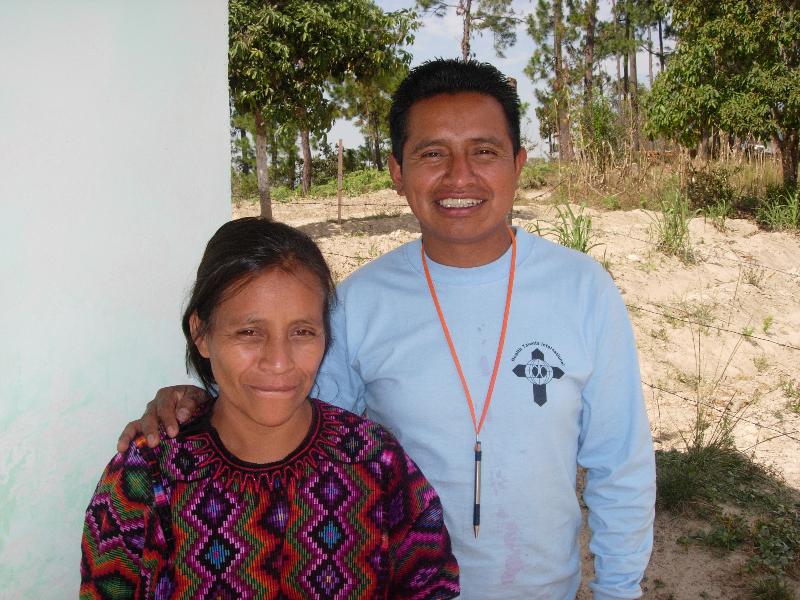 Up in the Highlands, one of Dr. Lisa and Kemmel's most trusted Mayan health promoters, Gaspar Chan, has taken on a new role as a full time evangelist in Xepocol. Gaspar, pictured in the photo to the left with his wife, Juana, has already had many opportunities to visit in homes of members of several churches to encourage them in their times of conflict. He has helped some reunite with their church families. One man he visited with had not been to church in 20 years. He has also been providing follow-up with clinic patients and recently baptized a family of 8 in Xepocol who had been coming for treatment! Gaspar is a very capable man whose love for God is obvious to all who know him. We invite you to join us in praying for him as he strives to share God with his own people.

Pan American Lectureship
Sheri Kretzschmar will represent Health Talents when she attends the 49th annual Pan American lectureship in Santo Domingo, Dominican Republic, the week of November 3-10. This conference takes place every year and

provides a unique opportunity for fellowship time with brothers and sisters whose hearts are keenly attuned to missions and provides edification from quality mission-minded speakers from both stateside and mission fields.